Media releases
Looking to the future during National Skills Week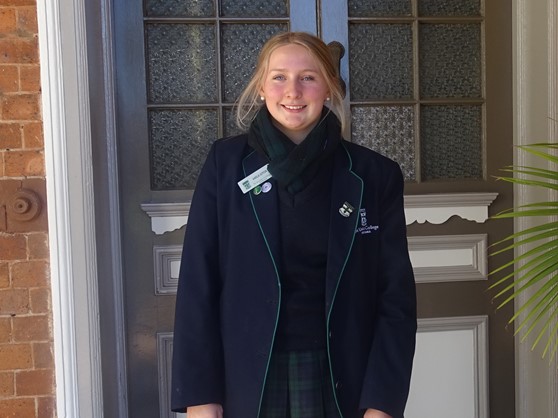 At 16 years of age Amelia Sutton knows where her future lies – in educating young children.
Amelia has always dreamed of becoming a primary school teacher and being the oldest of five siblings she already has plenty of experience with younger kids.
Taking on a School-Based Traineeship in Education Support, Amelia has been working at St Joseph's School in Millmerran whilst studying Year 11 at St Ursula's College. 
Her traineeship through the Toowoomba Catholic Schools (TCS) School-Based Apprenticeship (SBA) program has cemented her decision and given her a head start towards her career in education.
"I love working with the Prep and Year 1 students at St Joseph's School in Millmerran as they are really respectful with such brilliant manners and they really want to get involved and have fun," said Amelia.
"Watching the students develop their skills is one of my favourite parts, and their bright, happy smiles when they see me walk in the classroom."
Undertaking the SBA has given Amelia more confidence to enter the working world.
"I have learnt how to talk to adults in my role as a School Officer and I am treated like a teacher and they include me in everything they do," said Amelia.
Lawson Short, Principal at St Joseph's School in Millmerran, said Amelia was a welcome edition to the school and to the staff at St Joseph's School. 
"Amelia is highly motivated and engages well with all the students," said Mr Short.
"She has learnt many new skills that will help her in her chosen career in the education sector."
Amelia has certainly gained a understanding of what is like to work in a classroom and that experience has been invaluable. 
"I would definitely encourage others to undertake an SBA as you gain a lot of experience and the reward of building your knowledge in the real world."
"There are so many SBA option that students can undertake - there is something for everyone."
"I really like the support provided by the Toowoomba Catholic Schools Office (TCSO) team who check in and make sure I am doing well," Amelia said.
Karen Coulston, Manager of the SBA program said, "We currently average around 350 students from our schools every year undertaking a school-based apprenticeship or traineeship. This is across a wide range of industries throughout the Darling Downs and South West region."
"Our team supports students attending the twelve Catholic secondary schools via regular contact with students and their employers.  It is really rewarding to see students successfully complete or convert their SBA to full-time work or apprenticeships," said Mrs Coulston.
National Skills Week, celebrated from August 22-27, is designed to raise awareness on the diversity of careers which can be realised through vocational education and training, the skills for an economically viable future, and the incredible range of new jobs and skills in demand for the future. Find out more here: www.nationalskillsweek.com.au