Media releases
INAUGURAL YEAR 12 UNIVERSITY OFFERS IN MEDICINE AND ENGINEERING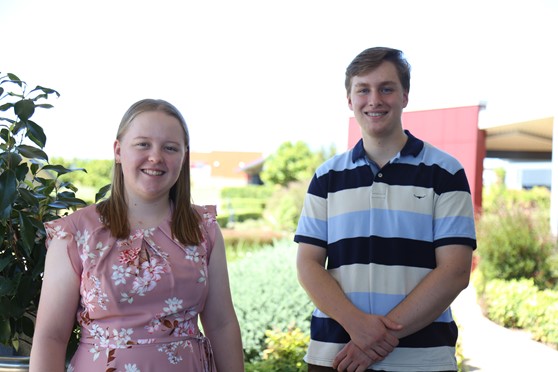 The long awaited University offers are in for our Inaugural Year 12 graduates, and for College Dux and 2020 Captain, Caitlin Lang, the results couldn't be better! Caitlin has been accepted at the University of Queensland to complete a Doctor of Medicine.

The Lang household was full of excitement and tears of joy this morning as Caitlin logged into QTAC to realise her hard work had paid off. She says "I started at Mary MacKillop in Year 11 with a mantra to say yes to everything, talk to everyone and just go for it because you never know what is going to push you in the right direction."

Caitlin has always had a love of science, but after many discussions with Mr Kris Naiker, Assistant Principal in Teaching & Learning Senior, she realised her passion was in helping people extend or better their health outcomes and diagnosing disease and illness. "Even though it's a really long pathway, I'm excited because I'll be able to help people in an amazing way and do what God put me on earth to do."

Caitlin will commence her 7 year pathway with an undergraduate Bachelor of Biomedical Science, living on campus at Duchesne College, St Lucia.

College Principal, Mr Chris Gabbett says "We are very proud of our foundation College Dux, Caitlin. She achieved a 98.35 ATAR and, following more assessments and interviews, has been accepted to the University of Queensland to complete a Doctor of Medicine. Caitlin's continuous hard work makes her incredibly deserving of this."

Founded in 2003, Mary MacKillop Catholic College in Highfields is the youngest P-12 College in Toowoomba and the Diocese, and despite the setbacks of 2020, this foundation cohort have even more to celebrate now. With 100% of this foundation cohort receiving a QCE and 50% achieving an ATAR score above 90, all graduating students have secured a pathway to their future through university entry and the Australian Defence Force.

"As a College we are so very proud of our inaugural year 12 class. Our priority over the past two years has been on creating a focused academic culture in the senior school and we have some really outstanding teachers who maintain it. These achievements will provide a really positive example to all of our students as we continue to create a P-12 academic pathway" says Chris.

Fellow 2020 Captain, Connor McKerrow has been accepted into a Bachelor of Engineering Science at the University of Southern Queensland and has been fortunate enough to be awarded the Vice Chancellor's Scholarship for receiving an ATAR above 88.

Daniel Verches is equally excited about being offered a place to study a Bachelor of Engineering (Honours) at QUT as he is about moving to the city! "Receiving Honours means I now have the opportunity to major in Electrical Engineering and get one step closer to my dream job as an engineer in Tokyo! I always wanted to experience city life after completing school in Toowoomba." said Daniel.
The majority of students have opted to stay in Toowoomba to continue their studies, with USQ providing first round offers in areas including Bachelor of Science, Diploma of Science and Bachelor of General Studies.
-Ends-
Mary MacKillop Catholic College invites all interested media to contact Marketing and Communications Officer, Carolyn Richardson for further information.
P: 07 4698 7777 M: 0439 739 005 E: Carolyn.Richardson@twb.catholic.edu.au