Media releases
Hybrid Learning - welcome to the new world order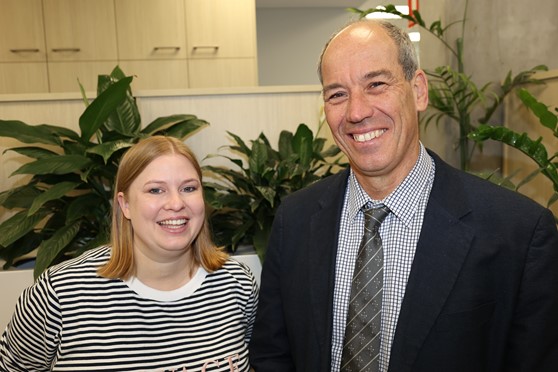 The traditional way of delivering subjects in our schools is being reshaped and students are enthusiastically engaging in this new approach. A new way, an exciting transformational way, is emerging and Toowoomba Catholic Schools are at the forefront of this innovation. A focus on 'starting over', forgetting the traditional approach to the planning and preparation of material and concentrating on the design of courses that foster student control in their learning is emerging.
This innovative approach is outlined in "Hybrid Learning - welcome to the new world order" the title of Toowoomba Catholic Schools Office (TCSO) Education Officers Paul Herbert and Joanna Holden's presentation at the Australian Council for Educational Leaders (ACEL) National Conference 2022. In front of a national audience of educational leaders Paul and Joanna will share their vision for what the future of teaching and learning will look like.
TCSO have been supporting the pilot delivery of Specialist Maths by the office to students at St Joseph's School, Stanthorpe through a hybrid learning (the combination of online and face to face learning) model. Through the evolving nature of the pilot, key learnings have emerged.
Joanna Holden, who has been teaching these students, explains that her focus on course design has given her new insights into the potential of hybrid learning.
"My students have engaged fully in the course. The interactive eBooks combined with numerous face to face opportunities have empowered them to challenge themselves in their learning," said Joanna.
What has clearly emerged has been a new 'way' of teaching, one based on contemporary dialogue that promotes collegiality in the learning environment.
Project coordinator Paul Herbert has noted the changes in the 'new classroom dynamic'.
"Students approach each learning opportunity, as exactly that, an opportunity. They see Joanna as a colleague rather than a teacher and are far more open in their conversations with her," he said.
By combining the power of digital tools with pedagogies (teaching strategies) that support such tools, students have flourished.
"What we are doing is using the tools – students' devices – in the way that they use them external to school – interactive, intuitive and gamified," Ms Holden said. As a result, students feel that the learning is specifically targeted to them and their world.
TCSO Executive Director: Catholic Schools, Dr Pat Coughlan explains that the hybrid learning project is an example of the innovative practices happening within Toowoomba Catholic Schools (TCS).
"We are constantly striving to bring our mission to life. Academic success for all and making Jesus known are the two pillars of TCS. The hybrid learning project is an opportunity to ensure our schools cater for the learning needs of all our students no matter their location," he said.