Media releases
Growing our own during National Skills Week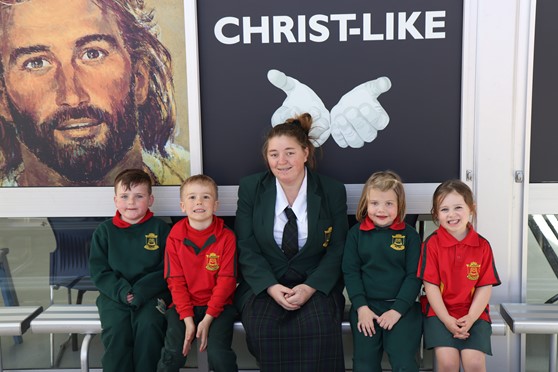 Growing our own is one of the strategies utilised by Toowoomba Catholic Schools (TCS) to attract students to the teaching profession and is in the spotlight during National Skills Week.
For over a decade, TCS has been supporting school-based traineeships as part of its program to recruit and retain staff.
Currently undertaking a school-based traineeship is Year 12 student Bella Evans who is employed by TSC to work at St Joseph's School in Stanthorpe.
During her traineeship Bella has been inspired by the great work the teachers are doing at the school.
She wants to be able to make a change in the students' lives just like her colleagues, Mrs Charlton and Mrs McNichol, who she has the pleasure of working alongside.
"Seeing what those teachers are doing inspired me to complete my Certificate III in Education Support," said Bella.
"Undertaking my training I have learnt how to work with colleagues and how to teach students in an engaging way."
"The support I receive from my workplace supervisor and other staff is wonderful and they provide such a welcoming and safe environment."
This training helps Bella feel more confident about her future career ambitions and provides a valuable starting qualification.
"I am so excited to receive a Certificate III in Education Support which means that I have stability and knowledge for my future career."
"I am going on a mission trip to Austria and after I return I would like to work in a Childcare Centre or with Prep students at a primary school."
Bella is enthusiastic about sharing her experience as a school-based trainee.
"I would promote doing a school-based traineeship because it is an excellent program which gives insight and skills to work with students in the younger grades," said Bella.
"My advice is to give it your all and don't be afraid as there is always someone willing to help and to listen." 
Andrew Kendall, Principal of St Joseph's School in Stanthorpe said, "Bella is an outstanding young person who engages very well with the students and staff."
"She is hard working and has taken advantage of the opportunity to do a traineeship at St Joseph's School."
"The experience and qualification she gains here, together with her work ethic and desire to help others, will set her up for success once she leaves school," said Mr Kendall.
The School-Based Apprenticeship and Traineeship (SBA) program is coordinated by the Toowoomba Catholic Schools Office and currently averages around 350 students from schools every year undertaking a school-based apprenticeship or traineeship across a wide range of industries throughout the Darling Downs and South West region.
National Skills Week, celebrated from August 22-27, is designed to raise awareness on the diversity of careers which can be realised through vocational education and training, the skills for an economically viable future, and the incredible range of new jobs and skills in demand for the future. Find out more here: www.nationalskillsweek.com.au