Media releases
Graduate can't wait to start teaching in a regional town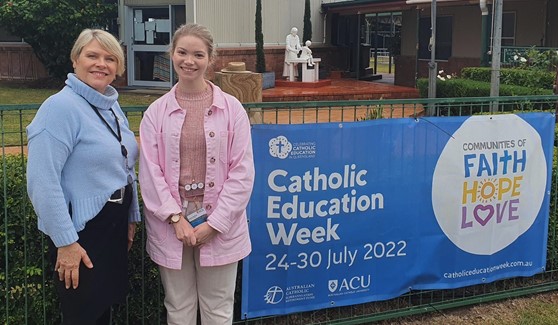 Lainey McPhee is about to graduate from the Australian Catholic University (ACU) with a Bachelor of Primary Education.
She has spent her last seven weeks working at a rural school in preparation to starting her career.
"I always wanted to be a primary school teacher and teach in a rural location," said Lainey.
"My first rural placement was in Longreach which I really enjoyed but I wanted to try a placement a bit closer to home."
"Also, I wanted to challenge myself to try something new and out of my comfort zone again."
"I grew up in Brisbane and I always wanted to experience rural life as I find it much more relaxing than the hustle and bustle of a big city," said Lainey.
Lainey completed her final seven week placement at St Joseph's School in Millmerran and has really enjoyed her time teaching there.
"With around 60 students there is a real feeling of community and you feel very involved in the school and valued by the staff," said Lainey.
"Doing my placement in a rural town has given me practical experience and I have been able to apply the knowledge that I learnt at university."
"It is wonderful to have the opportunity to apply all that knowledge in real life and see what works best with the students."
"I love the fact that we create such strong bonds with the students and that I can be someone that they trust and maybe even look up to."
"No day is the same in teaching. Everyday gives me the opportunity to overcome a new obstacle and develop my skills as a teacher," said Lainey.
"I would recommend working in a rural town to all teaching students as it helps build so many skills and gives you a greater range of experiences."
"Working in a Catholic school has been amazing as I feel like I can help students make good decisions, nurturing the whole student – head, heart and soul."
"I chose to study at ACU because I wanted my degree to include religious accreditation and they have been very supportive with providing opportunities and career pathways."
"The Toowoomba Catholic Schools Office (TCSO) team spoke at one of our university events and after hearing about the opportunities in the Toowoomba Diocese I approached them to assist with my next placement," said Lainey.
"And it has been a wonderful experience that has set me up for my future of regional teaching."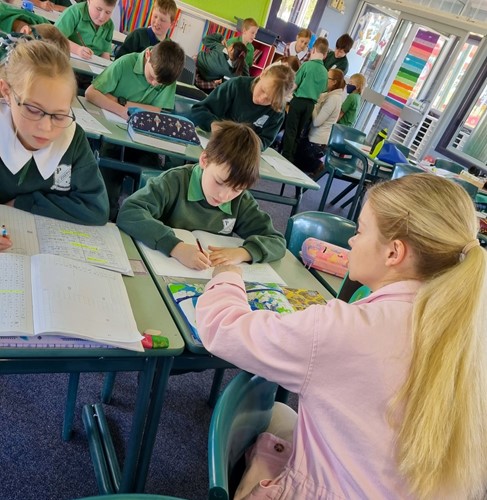 Pictured: Lainey McPhee teaching at St Joseph's School, Millmerran
TCS has implemented a centrally coordinated process for all requests for practicum placements in TCS schools.
Jacqui Mead, Organisational Development Officer at TCSO said, "I receive placement requests from university professional experience offices and I coordinate finding a school, trying to be strategic in matching the placement with a school in terms of subject areas or upcoming staffing needs."
"Sponsored placements are part of our strategy to promote rural or remote schools and give preservice teachers the opportunity to experience living and working in a regional location."
"This involves coordinating a number of things -  matching a supervising teacher with subject areas or year level experience, the availability of suitable accommodation for the preservice teacher for anything from four to nine weeks, and making the most of the financial assistance that TCSO offers to support the students on their placements," said Ms Mead.
"It's a team effort – working with Universities and students, working with our schools to make placements happen and of course, the teachers give of their time, experience and expertise to ensure students have a great experience."
"It's very rewarding when we build relationships with preservice teachers through placements, and they go on to gain employment in our schools through our graduate recruitment process," said Ms Mead.
"Interest from preservice teachers to undertake a sponsored placement in a rural or remote area is increasing, which is very exciting, and we are currently collaborating with ACU to engage with 3rd Year education students.
"We collaborate with a number of universities to offer this valuable experience to students," said Ms Mead.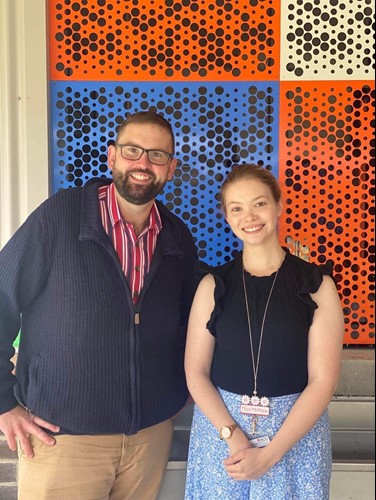 Pictured: Lawson Short, Principal of St Joseph's School, Millmerran and Lainey McPhee