Media releases
FIRST CROSS COLLEGE CHAPLAIN FOR TOOWOOMBA CATHOLIC SCHOOLS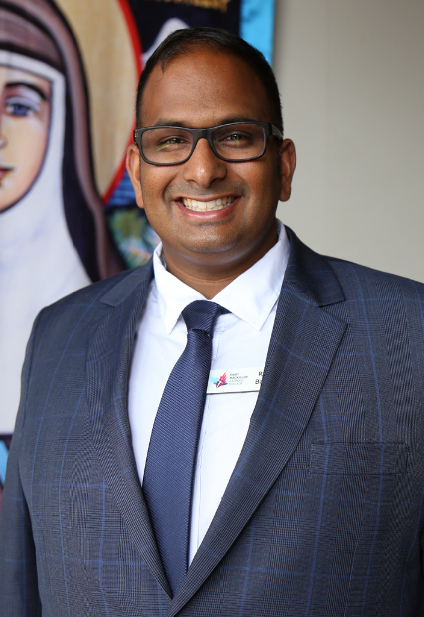 The creation of this role was a strategic one and enables each school to have some who can directly support the pastoral needs and spiritual wellbeing of its students and staff. It is expected that the role will be super dynamic with 'Bainesy' as he is known on the ground, responding to needs as they arise and 'walking in solidarity' with those who are more vulnerable in these communities.
"One of my key goals is to look for opportunities whereby students can apply their knowledge and understanding of the Catholic Social Teachings.  This will often be through advocacy opportunities that equip students with the critical thinking skills to thrive in the 21st Century," said Mr Baines.
The new Chaplain seeks to partner with not-for-profit organisations and explore new opportunities for young people to encounter God's message for us all: to love one another.  "It's as simple and as complex as that," said Mr Baines.
The latest campaign across the four schools is in response to the Queensland floods - Flood Them With Love.  Students are currently creating video messages of hope to be shared with other Catholic school students in Townsville.
"In time, we will look to fundraise and respond appropriately to these communities as the needs arise, it's not about rushing in as saviours, it's about listening first to what the actual needs are and responding appropriately," said Mr Baines.
Mr Baines was a volunteer at Brisbane Community Centre during his teenage years, involved himself in all things related to social justice during his high school  years at Nudgee College and coordinated Edmund Rice Camps in Brisbane. Forming positive, right relationships and journeying with young people from all walks of life has always been his passion. His undergraduate studies in teaching inspired him to travel the world and led him to study art curation and museum studies at London's Tate Modern.
While completing his Master's degree he worked part time as a Retreat and Ministry Coordinator and then Campus Minister for St Mary's College. He has also taught Religious Education in Roma, Brisbane and Toowoomba for various Catholic schools. 
"In 2019, I am ready to 'seize the day' with the young people from all four Colleges so that together we can make Jesus' core message a lived reality for our world," said Mr Baines.