Media releases
Federal government funding for two growing Toowoomba Catholic schools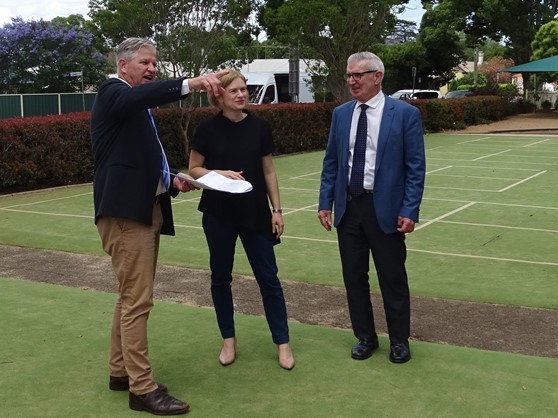 Good Samaritan College and Our Lady of Lourdes Primary School received welcome news this week that will enable the building of new facilities as both schools continue to grow.
Senator Amanda Stoker visited recently to let Liisa Hammond, Principal, Good Samaritan College and Chris Golightly, Principal of Our Lady of Lourdes know that the Federal government capital grants they had applied for had been approved.
"This significant investment is a real demonstration of the Federal Government's confidence in Catholic schools and the contribution that is made by these schools to our community," said Dr Patrick Coughlan, Executive Director: Catholic Schools. 
Schools in applying for Federal government capital grants must show that they too are able to make a contribution to the project.
"The $4.7 million for Our Lady of Lourdes and $3 million for Good Samaritan College, alongside the school's self-funding of the projects will see more contemporary learning spaces made available to students in both schools," said Dr Coughlan.
For Good Samaritan College, this will include a state of the art hospitality area and three new classrooms.
"We will now be able to offer on-site certificate courses in hospitality to our students," said Mrs Hammond, "and the three new classrooms will offer flexible learning spaces for all subjects."
With a growing enrolment wait list, the College will also be able to enrol more students due to the additional facilities.
"The work done by the College is to be commended.  With these new facilities enabling more young people the opportunity to re-engage with learning, reach their potential and be a part of community; I am really pleased to have been able to see for myself what is being achieved," said Senator Stoker.
For Our Lady of Lourdes, the capital grant will enable new classrooms and an administration block to be built to replace current temporary classroom structures and ageing buildings.
"We have continued to grow every year, and we are bursting at the seams," said Mr Golightly.  "Parents and students are very excited that plans we have had for over three years will now become a reality."
Year Six students have been learning in mobile classrooms for the last couple of years and the outdoor space that they currently sit on will be returned to playground space once the building work is complete.
"This is the next stage in our master plan, and will ensure that we continue to provide bright, contemporary learning and working spaces and amenities for our students and staff," said Mr Golightly.
Building works will begin during the Christmas holiday break for both schools.
…ends…