Media releases
EXTERNAL EXAMINATION PREPARATION PROGRAM A POPULAR CHOICE IN SCHOOL HOLIDAYS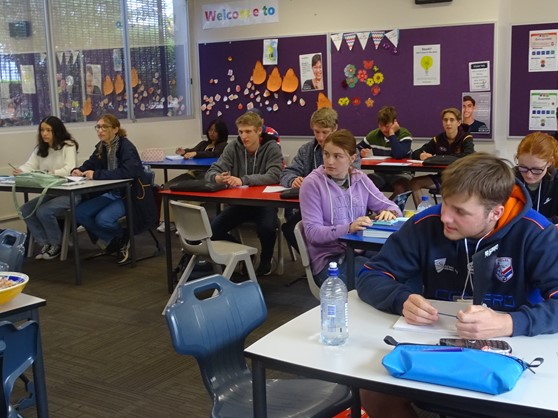 This week students from across Toowoomba Catholic Schools have gathered at St Saviour's College to prepare for their upcoming external ATAR assessments. Over 100 students from Toowoomba, Stanthorpe, Warwick, Dalby and Roma are participating in the program.
The Toowoomba Catholic Schools Office, External Examination Preparation Program (EEPP) aims to give students the edge in their preparation for the exams which begin in October. The following general subjects are covered in the EEPP.
English

General Mathematics

Mathematics Methods

Specialist Mathematics

Biology

Chemistry

Physics

Religion
"We have recruited a range of expert teachers from within our schools and are hosting the students across six days and eight subjects," EEPP coordinator, Mr Paul Herbert said. "As a diocese we are committed to excellence in student achievement, and this program is a testament to this commitment."
 
The teachers act as mentors to students and...
develop and lead sessions on specific subject exams
guide the planning and writing of responses to practice questions
provide specific examples of cognitive verb use in exam questions and how to 'break down' what is expected in the answer
gave clear guidance on what the examiners are looking for
support the completion of mock exams
provide written and verbal feedback to enable students to grow their knowledge and skills
provide additional resources for use after the program

assist students in preparing their study regimes for the coming four weeks.
St Saviour's College Principal, Ms Sharon Collins, said that St Saviour's College was proud to be hosting the program once again this year. "As a College, we are committed to every girl achieving her potential and the EEPP program encourages every student to strive for personal excellence. We are privileged to have incredible teachers working alongside students to support them in their preparations for these exams."
"The External Examination Preparation Program is a wonderful opportunity available to students to help achieve their best ATAR. The Program is an opportunity for Year 12 students to refine their considerable skills and talents in preparation for ATAR external assessments. Some of our best teachers have made themselves available for the week of intensive preparation with students. The secondary principals' group was instrumental in promoting the program and encouraging students to get involved. Both groups should be applauded for this timely opportunity for students," said Dr Pat Coughlan, Executive Director: Catholic Schools.

Last year, students in Toowoomba Catholic Schools attending the program excelled in their external exams, with some students scoring above the coveted ATAR rank of 99.  The ATAR score replaced the OP system of university entrance in 2020.