Media releases
DIOCESE OF TOOWOOMBA CATHOLIC SCHOOLS MASS FOR 2021 YEAR 12 ABORIGINAL AND TORRES STRAIT ISLANDER GRADUANDS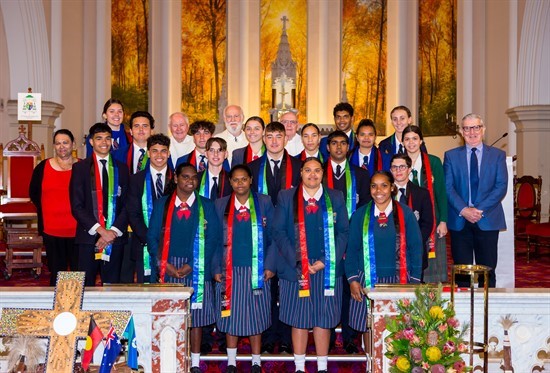 The Toowoomba Catholic Schools' Mass for 2021 Year 12 Aboriginal and Torres Strait Islander Graduands was celebrated at St Patrick's Cathedral on Tuesday, 14 September. Students from Toowoomba and Warwick Colleges attended along with their parents, grandparents and community members.
'The completion of Year 12 is a milestone to celebrate in all young people's lives.  Although they may not grasp it fully now, they have a precious gift that over half the world's population do not have, a world-class education. It is a gift to be shared, to help others achieve what they have achieved and to make the most of opportunities which come their way. Education is the great enabler to unlock and rise above the challenges and disadvantages which get in the way of people leading full and flourishing lives. Higher levels of education are associated with improved health outcomes, economic status and quality of life,'  said Dr Pat Coughlan, Executive Director: Catholic Schools.
The Mass included a student led Smoking Ceremony, Acknowledgement of Country and didgeridoo playing. Narelle Jackson and Chris Bartlett, proud Indigenous people, shared messages to guide and inspire the Graduands, and Graduands were presented with specially designed sashes and a medallion as a memento of this milestone in their lives.

St Mary's College Year 12 student, Zachary Lasserre commenced his secondary schooling journey at St Mary's in 2016.  Zachary said, 'I am grateful for the opportunities that I have experienced as a Mary's man. I graduate with fond memories and a great sense of pride. I have been proud to be a part of a community of brothers, that always look out for one another. Next year, I plan to study a Bachelor of Nursing at the University of Southern Queensland. While I am excited to move onto the next chapter of my life outside of school, I will dearly miss this great College'.