Media releases
CSIRO program brings real Science Technology Engineering and Maths (STEM) to the classroom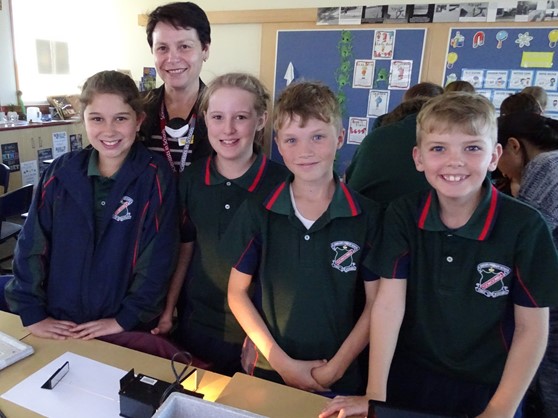 A number of Toowoomba Catholic Schools are partnering with local science professionals to enhance the offering of STEM opportunities in the classroom.
The CSIRO's STEM Professionals in Schools works to drive innovation and looks to meeting Australia's future job needs by exposing school students to real STEM experiences and hopefully, sparking an interest in the area.
Associate Professor Bernadette McCabe - Principal Scientist, University of Southern Queensland (USQ) has been visiting St Saviour's Primary School in Toowoomba for almost a decade and says the benefits for herself as a professional, and for students, are reciprocal.

"The program enables me to come into the classroom and to provide the children with an insight into the life of a scientist and explain how I got here, but also importantly to show them different pathways for careers in STEM.
"It also allows me the opportunity to get back to grass-roots science and I'm reminded of why I do what I do."

"Knowing that the current curriculum is already very full and not wanting to place any other external pressures on students or their teacher, I always share activities that complement the other work they are doing" Associate Professor McCabe said.
Toowoomba Catholic Schools has, for the first time, recently employed an Education Officer soley focused on building teacher capacity in STEM subjects across its 31 schools and Jim Midgely, Director: Teaching and Learning at Toowoomba Catholic Schools sees enhancing the uptake of STEM as a key priority for schools in the years ahead.
"We are undergoing a digital revolution and STEM literacy is more critical than ever.  The CSIRO tells us that up to 40 percent of our current jobs as we know them will be impacted by automation in the next ten years, and many of the jobs our current students will end up doing, haven't even been invented yet."
"We see very clearly that students are highly engaged during visits from a person who is undertaking a STEM career in everyday life and what better way to cultivate a passion for STEM in a student, whether they be in their primary or secondary years.  Therefore, we are working to establish the program in all of our 31 schools."

"STEM Professionals in Schools increases teachers' confidence and encourages students to consider STEM as a career path.  We know this is vital in preparing our students for the future," Mr Midgely concluded.
​