Media releases
Consent, Young People and the Law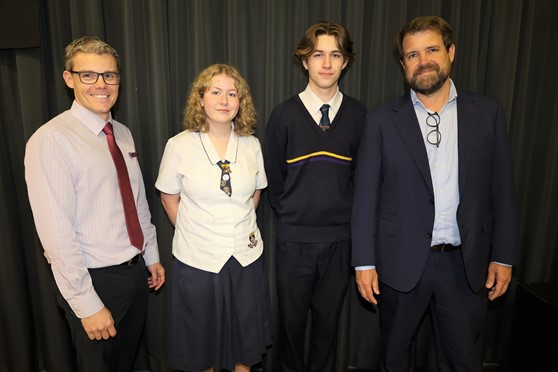 Discussing the issue of consent with students and building an understanding from a moral and legal point of view is a part of Catholic schools' Health and Physical Education and Relationships and Sexuality Education program. 
To aid in their learning, Adair Donaldson from Donaldson Law recently presented to several Toowoomba Catholic Secondary Schools and their parents, sharing the legal perspective to a very engaged audience.
Mr Donaldson is passionate about educating young people on the laws relating to sexual consent, online harassment, sexting, underage drinking, drug use and sexual assaults. 
He said, "I talk to the students to educate them on what consent is and to help them understand the law around consent."
"In my presentation I use real-life scenarios, that are not sugar-coated, to help draw attention to issues pertaining to consent as well as the use of mobile phones and social media use."
"The aim is to guide these young people so that they can make educated decisions through understanding their responsibilities, where the line is and to not cross it."
"This generation is not a problem that needs to be solved, they are the solution," said Mr Donaldson.
"Treating them with the respect they deserve and starting a conversation around the issues with them, gives them the best chance of becoming upstanders, not bystanders."
Mr Donaldson shared his wisdom with students from St Mary's College, St Saviour's College, St Joseph's College and Mary Mackillop Catholic College.
Dr Pat Coughlan, Executive Director: Catholic Schools said, "our Catholic values and beliefs are the touchstones to living an authentic life based on dignity and respect."
"This presentation by Adair Donaldson supports our students to know and experience these values in real-life situations and strengthen their resolve to apply these values in their daily interactions with others," said Dr Coughlan.
Deputy Principal of St Joseph's College, Brendon Willocks said this is an important issue to discuss openly with students.
"During their time at school, our students have had the opportunity to participate in discussions and learn more about themselves, their identity and relationships with others, so that they are ready to engage with those they meet in the world."
"Through their studies in HPE lessons, on retreats and in pastoral care lessons, they have had the opportunity to learn more about decision making, sexuality and respect," said Mr Willocks.
"We believe this builds their skills and knowledge so that they are making decisions that honour and protect the dignity and wellbeing of themselves and those they meet." 
"The messages shared with our students by Adair Donaldson have helped clarify and reinforce these messages and the legalities around the issues of consent."
Year 11 student from St Joseph's College, Sophie Wagner said that it was an incredibly informative and valuable session.
"I think it's something everyone should learn about in an open and honest way," said Miss Wagner.
"In this session, I learnt about consent, sexual harassment and underage drinking and the legal consequences."
"It's important to know the consequences because they are very real and you're affecting real people, yourself, and your future," said Miss Wagner.
"If we learn about it now, we can hopefully prevent negative behaviour and if we do see it happening, we can put an end to it."
Miss Wagner was clear that "NO is a one-word sentence and you don't need to justify yourself."
Another Year 11 student from St Joseph's College, Shane Hurlock said he knows that consent means everything.
"It's something that everyone needs to take into consideration because the effects on the person who hasn't given consent can be horrendous," said Mr Hurlock.
"It's one of the most important moral things that everyone needs to think about."
Mr Donaldson also presented to the parents of the colleges, providing them with helpful information and tips to assist their children in making good decisions.