Media releases
Congratulations to our educational leaders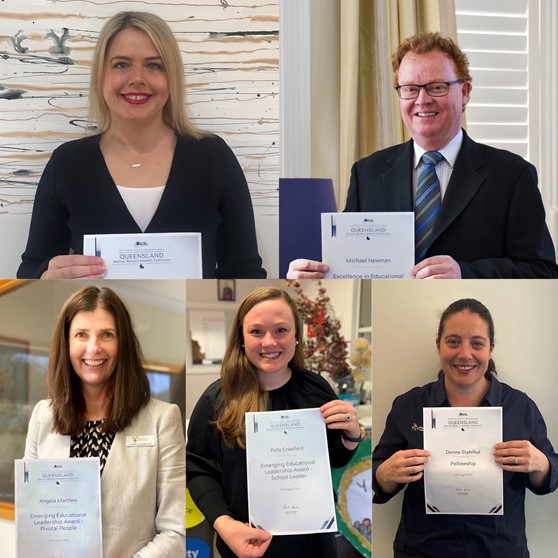 The Australian Council for Educational Leaders (ACEL) honours educational leaders who have made a significant contribution to the teaching profession and educational leadership through its annual awards.

On Thursday, 25 August the ACEL Queensland Branch recognised and celebrated the 2020 award winners and the following staff from Toowoomba Catholic Schools were recognised for their contribution to education. The citations from ACEL for these recipients give an insight into their valuable work in education.

Michael Newman – Excellence in Educational Leadership Award
Michael is currently principal of St Mary's College, Toowoomba and has recently been appointed as principal at Marist College, Ashgrove commencing in 2021. Michael has enjoyed a long and distinguished career in Catholic education having commenced teaching in NSW before spending time in leadership positions at Burdekin Catholic High School and Nudgee College. Michael is recognised throughout Queensland and beyond for his outstanding contribution as an educational leader and has made a significant contribution to educational leadership and staff development.

Donna Stahlhut – ACEL Queensland Fellowship Award
After a successful career as principal in schools across Queensland, Donna, in 2018, accepted the challenging role of establishing Toowoomba Catholic Schools (TCS) as an accredited provider of kindergarten and out of school hours care services. Donna brought to the role many commendable personal attributes and professional capabilities to establish a bold vision for early childhood within TCS. After receiving an Honorary ACELQ Fellowship in 2012, Donna has actively promoted the ideals of ACEL in both her role as principal and more recently as the architect of the development of a comprehensive system of Catholic kindergartens, care and outside school hours care.
Angela Martlew – The Emerging Educational Leadership Award – Pivotal People
Angela started her career as a secondary Health and Physical Education teacher before moving into the primary classroom setting. In 2019 she gained certification as a Lead Teacher, one of only two teachers recognised in Queensland. Angela has played a pivotal role in the introduction of high impact Visible Learning practices at Mater Dei Primary School, Toowoomba. She has been instrumental in the introduction and embedding of the school's Learning Dispositions and Learning Process. Angela is dedicated to continuous improvement and has worked collaboratively to establish structures that facilitate open sharing of ideas, data and thinking processes among her colleagues. Serving as a role model for other schools, Angela and her team regularly share their journey with a range of educators from all sectors.

Polly Crawford – The Emerging Educational Leadership Award – School Leader
Polly is an early career principal at Sacred Heart Primary School, Cunnamulla. She is an exceptional educator and leader and has successfully implemented a highly successful improvement agenda that led to substantial academic growth for students. Polly embraces the complexities of a rural, remote, and disadvantaged community. She ensures there is a consistency of vision, ethos and learning for her school community despite a regular turnover of staff. Polly fosters this through a commitment to communication, negotiation, accountability, and collaboration. Polly continually strives to live out the motto of her school: "Become Who You Are" to become the best leader she can be.

Jennifer Smeed - The Emerging Educational Leadership Award – School Leader
Jennifer's leadership potential was noted early in her career. She has held Middle Leadership roles, firstly, as Director of Senior Pathways, then as the Director of Senior School at St Mary's College. Jennifer's leadership in relation to teaching and learning in the senior school, was instrumental in the academic improvement that is now evidenced at both St Mary's College and Assumption College. In 2019, Jennifer was appointed Deputy Principal of St Saviour's College. Since this time, her leadership has solidified a culture of academic growth and improvement at the College. Jennifer has an inherent belief that all young people, irrespective of backgrounds, deserve a liberating education which will ultimately make possible their desired pathway beyond school.

Dr Pat Coughlan in recognising the award recipients said, "There are many reasons why students flourish in our schools but the most important of these is our staff. Our ACELQ award recipients are just a small sample of the many fine educators within our system of schools. Their work and perseverance have built an engaging and personalised approach to learning which challenges students to think deeply about the world and their place in it. I congratulate the 2020 award recipients."