Media releases
Celebrating 45 years of service and acknowledged with a special award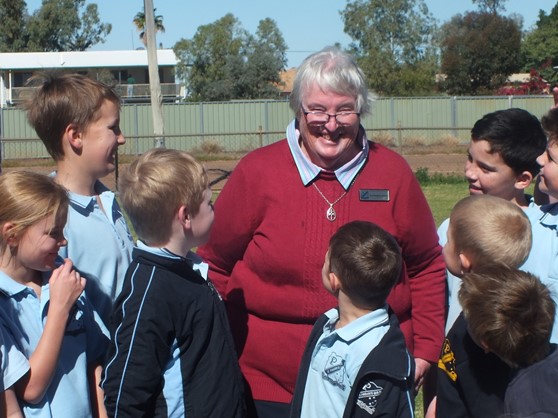 Well known for her love of rural people and communities, Sr Margaret Andersen has dedicated 45 years of her life to Catholic education as a Sister of St Joseph.
Sr Margaret has had many roles during this time, starting as a teacher, taking on the Principalship of St Finbarr's School, Quilpie twice; firstly, from 1982-1984 and then from 1996-2008; and has been the travelling Advisory Visiting Teacher for Religious Education in the far west of the Diocese of Toowoomba.  She is now back with St Finbarr's as their APRE, chalking up 25 years at this school.
Her strong sense of community has seen her involved in various civic committees that span education, health and other services, ensuring her years of experience and wisdom are shared and aid in gaining quality support for this remote centre.
"Sr Marg is instrumental in so many of our local community activities," said Genny McNair, Principal of St Finbarr's School, Quilpie.
"It is her compassion, sensitivity and the individual attention given to families that bring us together. She is an advocate for diversity and difference and lives the example of St Mary MacKillop, as she avidly promotes Quilpie and St Finbarr's."
Sr Margaret's life is her faith and the school and community of Quilpie; she is seen by the people of the town as the life and spirit of the school and community.
"Sr Margaret has wisdom borne of her experience as an educator and spiritual leader in remote and regional areas, touching the lives of people from our town and other remote and rural towns including Inglewood, Taroom, Julia Creek and Childers.  She has tirelessly, humbly and passionately worked in and for our community.  She is a trusted friend, valued colleague and an inspiration to all.  We are blessed to have Sr Margaret," said Mr McNair.
Sr Margaret's celebrations of 45 years of service coincide with Quilpie's centenary in 2017.