Media releases
Catholic schools celebrate community during Catholic Education Week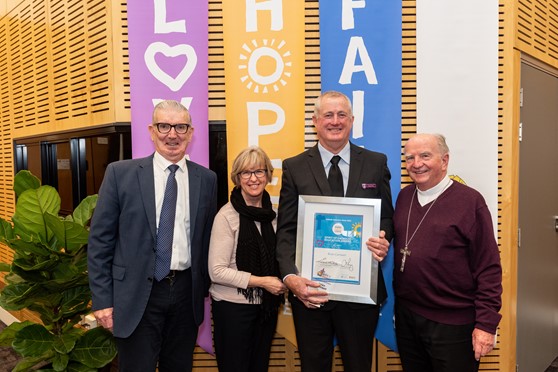 Catholic schools across Queensland celebrated their community spirit as they marked Catholic Education Week 2022 from 24-30 July.
Queensland Catholic Education Commission (QCEC) Executive Director Dr Lee-Anne Perry said the week provided Catholic schools with an opportunity to celebrate their unique communities and their common heritage.
"It's a wonderful time for Queensland's 313 Catholic schools and 29 kindergartens to reflect on not just the special nature of their school community but also how they contribute to the wider community," Dr Perry said.
The theme of this year's celebration was Communities of Faith, Hope and Love.
"It's a theme that reminds us that a Christian life is lived in community and at the heart of that community are faith in God, hope for the future, and love of God and each other," Dr Perry said
"Catholic education strives to make a difference in the lives of those in our school communities and in the wider community by challenging young people to live out the message of Jesus and to reach their full potential as compassionate, contributing, life-giving members of society."
The official launch of Catholic Education Week was hosted by Diocese of Toowoomba Catholic Schools Office at St Patrick's Cathedral, Toowoomba, on Tuesday 26 July.
Diocese of Toowoomba Executive Director: Catholic Schools, Dr Pat Coughlan, said Toowoomba Catholic schools represented a microcosm of Catholic education in Queensland.
"Our schools range from small remote primary schools like St Finbarr's at Quilpie through to our large colleges and boarding schools in Toowoomba," Dr Coughlan said.
"Some of our schools serve primarily Indigenous communities, others serve agricultural and rural communities and we also have schools serving those students who have disengaged from mainstream education.
"It was a wonderful opportunity to showcase the rich tapestry of Toowoomba Catholic schools during the launch event and to share the wonderful work of our communities of faith, hope and love."
Dr Perry said Catholic Education Week was also a time to acknowledge those who go the extra mile in Catholic schools.
"The Spirit of Catholic Education Awards recognise staff and volunteers in our school communities who make an extraordinary contribution."
"This year we received more than 180 nominations for the awards from right across Queensland and the seven award recipients are drawn from varying aspects of school life."
The Diocese of Toowoomba winner was Brian Cantwell a Middle Leader at St Joseph's College, Toowoomba.
Brian's deep commitment to maintaining and building an inclusive community at St Joseph's College is what makes him exceptional.
Whether it is sharing the history of the College with new staff, cooking up a feast on the College BBQ or one of his famous mystery bus trips to support towns in drought or flood – he has a way of ensuring staff want to be involved.
For students, his leadership of initiatives that engage them in service and outreach, have built wonderful partnerships and widened their sense of community. 
Always looking for new ways to engage students, maximise the impact of technology and improve equity, Brian has been instrumental in a number of successful innovation programs including the 'Girls in welding' event, supporting girls to explore engineering pathways.
Brian's 'ministry of presence' is key to his leadership, his reliability, relationality, consistency and genuine support.
It is all that he is as a person and his ability to bring out in others the Spirit of Catholic education that make him a worthy recipient of the Spirit of Catholic Education Award for the Toowoomba Diocese.
To find out more about the awards and Catholic Education Week visit www.catholiceducationweek.com.au.