Media releases
Catholic Outside School Hours Care continue to grow and students are flourishing
Demand for OSHC programs is increasing, and Catholic OSHCs across the Diocese have continued to grow due to their positive reputation for having professional staff and quality play, learning and care.
Toowoomba Catholic Outside School Hours Care (OSHC) programs' leaders and staff gathered today, as a part of their annual professional learning program, to hear from experts and share their own knowledge and skills. 
"Our OSHCs are providing the best in play, learning and care to young people across our Diocese. The confidence of families in our staff and the programs offered mean that we have increased enrolments and opened 8 new services in the last twelve months, with the newest opening on Monday at St Anthony's here in Toowoomba," said Dr Pat Coughlan, Executive Director: Catholic Schools.
Dr Jenny Cartmel, from Griffith University joined the staff via video link to share learnings from her Doctoral thesis titled 'Outside School Hours Care and Schools'.
"Having Nationally recognised experts working with us is a key to our success.  We learn from them and they from our experiences," said Donna Stahlhut, Senior Manager: Kindergartens and Care.
"As a result of today, our staff will reflect on their programs and practice, to ensure that we continue to provide innovative, challenging and engaging learning and play opportunities for the young people who are in our care."
…ends…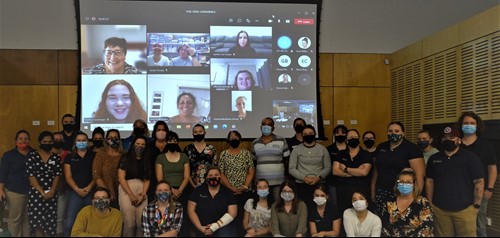 Staff from Catholic School Outside School Hours Care programs gather together and online to hear expert advice from Dr Jenny Cartmel, Associate Professor at Griffith University
For further information
Tracey Jacklin | Executive Officer
0428 799 120 | tracey.jacklin@twb.catholic.edu.au