Media releases
CATHOLIC EDUCATION WEEK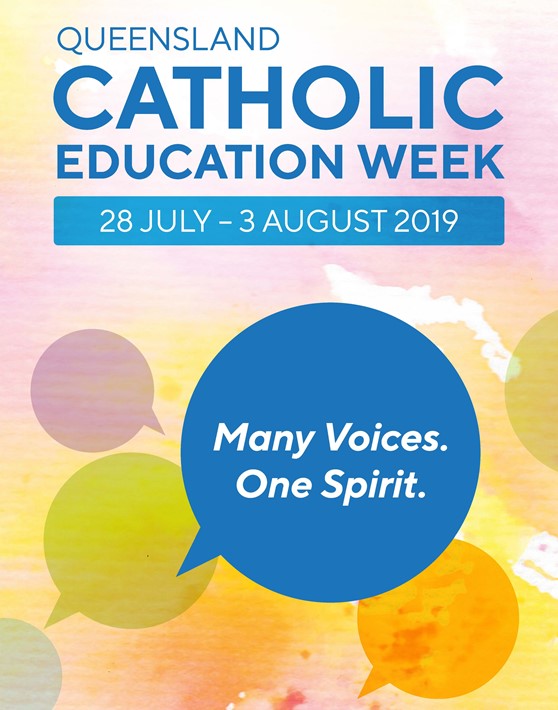 Queensland Catholic Education Week is a time for the 306 Catholic school communities across the state to celebrate Catholic education, its many achievements and substantial contribution to the broader community.

The theme for this year's celebration is 'Many Voices. One Spirit.', which acknowledges both the vast diversity of our communities, and the one Spirit which unites this diversity in purpose and mission.

The 'Many Voices' are students, staff, families, parishioners and community members. Our 31 schools extend hospitality and welcome to diverse student and family groups and highly qualified, principled educators irrespective of race, religion, ethnicity, gender or physical ability. It is with such students and staff that we witness to Christ's mission.

'One Spirit' signifies our unity of purpose. Catholic schools are places of faith and reason where the Gospel message and scholarship are entwined to liberate the human spirit, stimulate life-long learning and call all students to live a meaningful life and contribute to a better world. Students learn about and from the Catholic faith and are disposed to embrace it as their identity in life. The intent is to empower students to think of themselves as agents not dependents and further their social, emotional and spiritual wellbeing.

Catholic Education Week brings together 9,000 students and over 1,700 staff in our 31 schools across the Diocese. Schools celebrate locally with events including Masses, grandparent days, friendship days, book week parades and visits to aged care facilities and community service activities.

A feature of Catholic Education Week in the Toowoomba Diocese is the annual Bishop's Inservice Days. These days are an important occasion for staff to gather to celebrate, reflect and learn together. This year's keynote speaker is Professor Br David Hall who will speak to the topic of Catholic schools in turbulent times. Br David is well grounded in the daily challenges of school life and his keynote address emphasizes the significance and meaning attached to what we do. These days are held in Charleville, Roma and Toowoomba.
During this week we also take the time to acknowledge the outstanding contributions and service of staff with the Toowoomba Catholic Schools Excellence Awards. These awards showcase the exemplary leadership, teaching and classroom support evident in our schools as well as acknowledge the long service of staff who have given many years of dedicated service to education.

As executive director I am exceptionally proud of our staff, students, parents and parish staff who together make up the school community. These communities enable us to share the privileged responsibility of educating, nurturing and caring for our young people.

I thank all families who are sharing their journey with us and invite others to discover the difference a Catholic education can make.

Dr Patrick Coughlan
Executive Director: Catholic Schools
Diocese of Toowoomba