Media releases
Catholic Education Week 2021 – Spirit of Catholic Education Award Recipient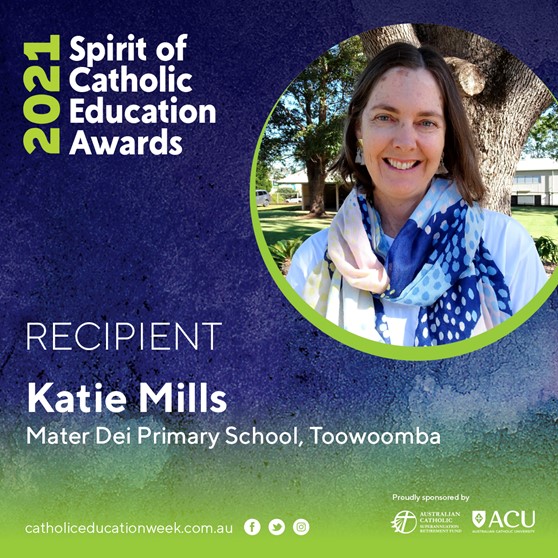 Katie Mills, a parent volunteer from Mater Dei Primary School, Toowoomba has been chosen as the Toowoomba Diocese's Spirit of Catholic Education Award recipient for 2021.
The Spirit of Catholic Education awards are presented annually in conjunction with Catholic Education Week to recognise staff members, parents and carers or volunteers making outstanding contributions to the life of a Catholic school community or other Catholic education authority.
Katie is the coordinator of The Samaritan's Table, a service started by the school over 10 years ago to help support members of their community in times of need. For over six years, Katie has coordinated the efforts of up to fifty parent volunteers to provide home cooked meals for members of the community experiencing times of sadness, grief and hardship; activating volunteers to drop meals to the school, thus maintaining the anonymity of volunteers and recipients. 
Mr Chris Bartlett, school principal explained, "Connecting both students and our community to our Good Samaritan charism is a clear goal for Mater Dei. Katie has looked for and implemented innovative and new solutions to support the school to achieve this goal by encouraging a culture of looking out for others."  
"Katie has developed a sensitive, discreet and empathetic radar to somehow learn of hardship in our community. She generously gives of her time to coordinate volunteers to provide an average of 100 meals each year to those in need. She has done this without seeking any recognition, thanks or acknowledgment."

Dr Patrick Coughlan, Executive Director: Catholic Schools said, "Katie is a great example of the spirit of Catholic education in our schools. Community support initiatives, such as The Samaritan's Table encourage students and families to give back through volunteering and use their gifts and talents for the good of all."
Katie will receive her award from Minister Grace Grace at the Official Launch of Catholic Education Week at the Cathedral of St Stephen, Brisbane on Tuesday, 27 July. She will also be acknowledged at the Toowoomba Catholic Schools Excellence Awards dinner on Thursday, 29 July.
…ends…
 CONTACT: Donna Kerr | Communications Officer | 07 4637 1408 | 0428 793 718 | donna.kerr@twb.catholic.edu.au