Media releases
CATHOLIC EDUCATION AWARD RECIPIENT TO USE BURSARY TO SUPPORT STAFF FORMATION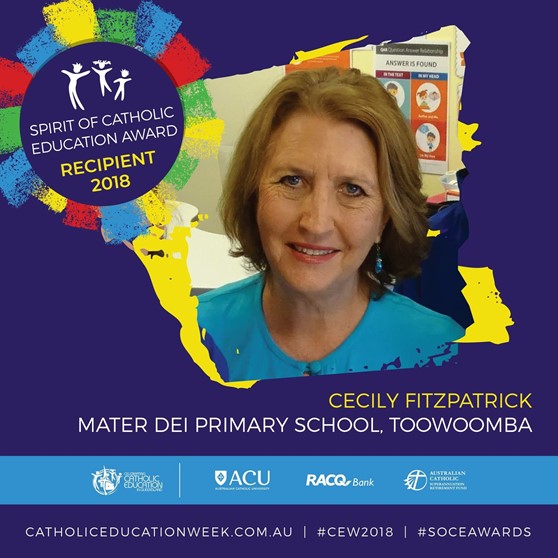 Cecily Fitzpatrick was recognized for her remarkable contribution to Catholic schools during Catholic Education Week, being named one of Queensland's Spirit of Catholic Education Award recipients.
Cecily received a bursary as a part of her award.  When asked what she planned to do with the bursary, Cecily replied, "I am very grateful for the bursary which I received, and it will be used to support staff formation in the Benedictine Tradition as our school was founded by the Sisters of the Good Samaritan."
The first rule of Benedict is 'Listen with the ear of the heart'.  This message is painted on the wall of the Mater Dei administration area.  
"Every time I see it I am reminded of how important it is to be aware of what is happening around you especially what is happening in other people's lives. Benedictine spirituality goes into the heart so that we can better embrace our world," said Cecily.  
"Joan Chittister (an American Benedictine nun) says it so much better, 'We need to open our eyes and see things as they exist around us: what is valuable and what is not, what enriches us and what does not, what is of God and what is not.' 
"The Sisters of the Good Samaritan have given us values and principles that need to be kept alive in our contemporary world as it is so easy for us to slip into our busy lives and forget the greater good and bigger picture which we both need and deserve to be spiritually enriched," said Cecily.
Mater Dei will be inviting the education team of the Good Samaritan Sisters to present a day of formation on their spirituality to the three schools in our diocese who share this same charism, these being St Monica's School, Oakey and St Francis de Sales School, Clifton. 
The Mater Dei Primary School Prep teacher and former Assistant Principal has worked for Catholic Schools for 35 years, 31 of those years in the Toowoomba Diocese.  For Cecily, teaching in Catholic schools, just felt like the right fit.  
"I believe that anyone working in the Catholic system has an advantage because of the rich traditions of our faith and the spirit that sustains us;" she said.