Media releases
Acknowledging women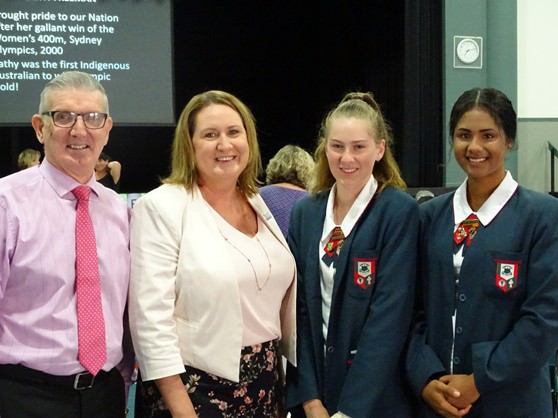 For the past ten years St Saviour's College's has hosted an International Women's Day breakfast to acknowledge the enormous role that women play in people's lives, workplaces, families and homes.
This year's event was focussed on the theme of 'be bold for change' and had past student Jodie Willey, National Legal Principal of Shine Lawyers sharing stories about women who have inspired her to become the leader she is today.
Acting Principal, Sharon Collins said, "Jodie was just 16 when she graduated from St Saviour's College and joined the then, local legal firm, Shine, Roche, McGowan as an articles clerk and pursued a law degree.  Recognising her talents early on, Jodie was assigned some big cases including the sexual abuse case that is the subject of the film to be released this year called 'Don't Tell'. Jodie is a great example of a woman who, not long after finishing school, has gone on to be bold for change."
Jodie also spoke of the everyday women in her life that encouraged her to be resilient, courageous and to follow her dreams. She mentioned her Nanna, her Ma and her mother; who she thanked for also ensuring that she is kind and strong.
The breakfast was attended by both men and women with members of the St Mary's College community joining in the celebrations.
"We instil in our boys the importance of women and how together with them we can create a better world," said Mr Michael Newman, Principal, St Mary's College.
"Attending this event, with our good friends at St Saviour's College, is just one of the ways that we acknowledge and show our appreciation for the work, care and support of women."
International Women's Day is celebrated on the 8 March each year.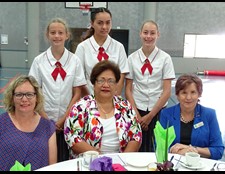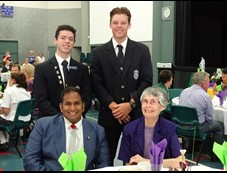 Left hand photo: Kellie McMahon, Nelissa Ramsay, Hayley McMahon, Angela McMahon, Helen Ramsay, Cr Anne Glasheen
Right hand photo: LtoR (sitting) Ryan Baines, Sr Catherine, (standing) Christopher Godfrey, Nicholas Thom