News
The town of Quilpie turns 100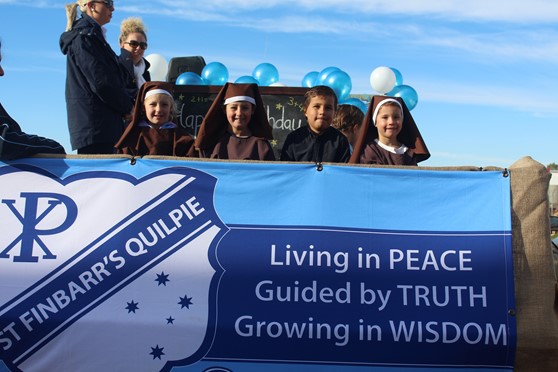 Quilpie celebrated its centenary with four days of festivities starting on the 29 April and it was a wonderful reunion for many of St Finbarr's past students.
St Finbarr's open day was well attended by more than 60 past students and families with 2 students from the very first enrolment in 1950.
The display of past students' photos and memorabilia in the library was very well received, both during the open day and at the Cocktail Evening.
"So many people were involved in organising the Cocktail evening and the library display," said Ms Genny McNair, Principal of St Finbarr's School.
"We had a float in the Parade on Saturday. We also held a s special Assembly, telling the story of the coming of the sisters of St Joseph and the following years. A tableau depicting the first 3 sisters arriving at 11.00 pm on a hot January night in 1950 began the story. They were met at the Railway Station by Fr Cronin, Parish Priest and escorted to their rented house by townspeople carrying lamps as there was no electricity in the town in 1950.
"Students in Years 5/6 conducted guided tours of St Finbarr's Church using a brochure they had prepared. Visitors enjoyed the opportunity to learn about the special features of the Church. The tour guides found it a great experience and are looking forward to another opportunity to share the Church's story," said Ms McNair.
"This has been a real community effort and a great demonstration of why Quilpie is going strong after 100 years."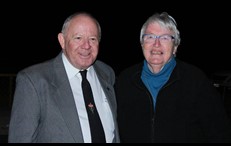 LtoR: Fr Peter Doohan and Sr Margaret Andersen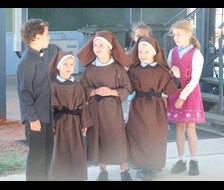 LtoR: Jonah Horgan, Ava Horgan, Sammy Bodkin, Chelsea McConnell and Paige Hunter