News
School celebrates its namesake
St Patrick's School and Church in St George went green to celebrate St Patrick's Day on Friday 17 March.
The day began with Mass celebrated with Parish Priest, Father Salvador.
"We had our very own St Patrick with us as well for this Mass thanks to Year 4 student Hugo Frith who so capably portrayed him," said Majella Morris, APRE at St Patrick's.
After Mass the staff acted out the children's book 'The day the crayons came home' and a lunch of fish and chips was enjoyed together.
The day continued with loads of activities including a waterslide, parachute games, craft activities, fun relays and a quiz; all topped off with a green cupcake and ice block.
In the midst of all this fun the Years 4-6 students enjoyed a visit from Petero Civoniceva, NRL Ambassador, and Grant Bignell, South West Rugby League Development Officer.
"It was a very enjoyable day thanks to St Patrick and to all of the staff and students of our school," said Ms Morris.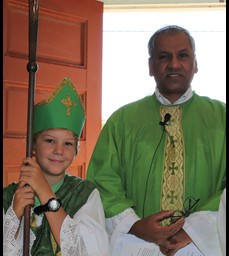 Top photo: Hugo Firth as St Patrick with Fr Salvador
Bottom photo: Star staff performance of 'The Day the Crayons came home'