News
Remote learning for new teachers getting ready for 2022 school year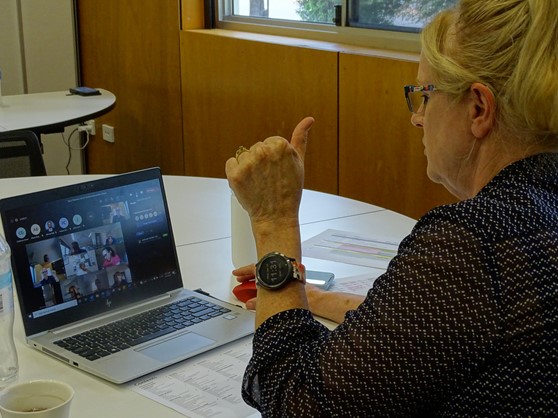 Just like their students, teachers and support staff across the Diocese of Toowoomba are preparing for the new school year; preparing themselves, classrooms and exciting and challenging learning opportunities for their students.
For the over fifty new teachers, joining Catholic schools and colleges across the region this preparation also included attending the online New Teachers in the Diocese conference.
"This is such an exciting time for staff and students.  The anticipation of a new school year; with new colleagues and classmates, new learning and a refreshed energy that comes after a long holiday break," said Dr Pat Coughlan, Executive Director: Catholic Schools.
"Alongside new students, we are welcoming over fifty new primary and secondary teachers, some graduates and some more experienced, to schools across the Diocese.  Whether they are joining the team in Cunnamulla, Warwick, Dalby, Stanthorpe, Roma, Tara or one of our Toowoomba schools or colleges, they will be a part of a dynamic, innovative and forward looking group of professionals.  We pride ourselves on the ways in which we work together across the 31 schools that are a part of Toowoomba Catholic Schools, and this conference is the first taste of this for these teachers."
"Whilst we had planned for this to be a face to face conference, we took the decision to move to remote learning so that our teachers can remain in their communities, minimising their need to travel and gather in a large group," said Dr Coughlan.
During the conference the teachers worked with experienced and expert educators to grow their understanding of the contribution they will make to the academic success of students within a distinctively Catholic environment and the strength and welcome of their communities.
"We are excited to have new teachers for subjects such as STEM, Psychology, Digital Technologies and Agricultural Science joining our colleges, specialist Music and Visual Arts/Drama teachers joining our primary schools and high calibre primary teachers moving to our western communities. Each of them has been selected from a strong fields of applicants. Their skills and personal attributes set them apart and we are looking forward to work alongside them," said Dr Coughlan. 
 …ends…
For more information contact
Tracey Jacklin | Executive Officer | 0428 799 120 | tracey.jacklin@twb.catholic.edu.au