News
Chemistry teachers work on the formula for success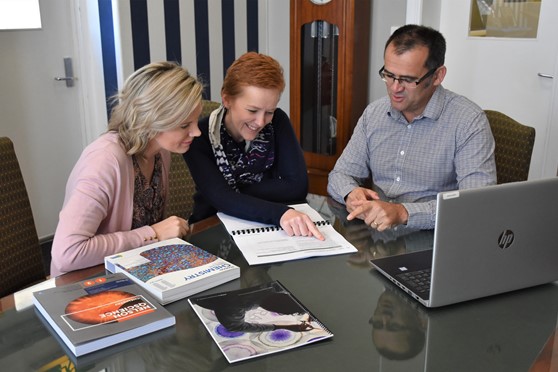 Senior Chemistry teachers from across the Diocese met at St Mary's College recently to develop contacts and discuss their progress towards preparing for the implementation of the new QCE general Syllabus for Chemistry. With so many changes on the horizon, including assessment, planning and sequencing of content it is imperative that teachers have a support network of fellow teachers to support them in their preparation. The ability to share ideas and thoughts with other subject specific teachers was a common feature of the feedback from teachers at the conclusion of the day long gathering.
One of the 'issues' faced by many Senior Secondary teachers is a feeling that 'they are alone' in the understanding of the new system. Days like this help to develop a collective approach to the preparations teachers are currently making. Teachers left feeling far more confident in the directions they are taking and with a clear plan of what they need to focus on in order to be fully prepared for the 2019 and 2020 school years.
This gathering was the first in a series of subject specific meetings planned  for Term 4 and provided invaluable feedback as to the structure of these future professional learning opportunities. Such events are part of the TCSO and school Principals ATAR collaborative program and are designed to give TCS teachers every opportunity to develop and model best practice planning. Such gatherings are hoped to be a feature of TCS professional learning programs in 2019 / 2020.
The 'pilot group' of Chemistry teachers should be congratulated for their professionalism, passion and commitment to their craft.
---