News
200 years of Catholic education celebrated in National concurrent Mass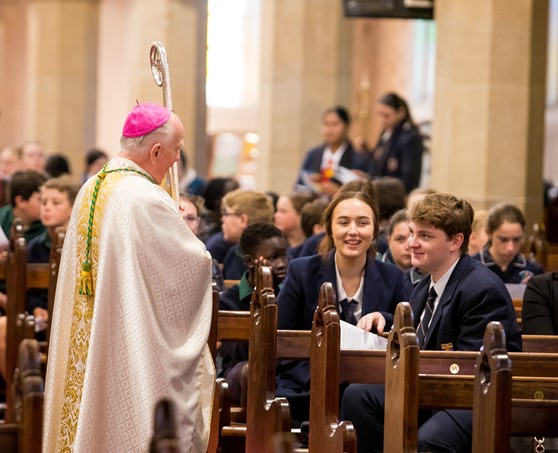 Over 8,000 students and 1,000 staff were gathered at 10.30am on Monday, 24 May across the Diocese of Toowoomba to concurrently celebrate Mass acknowledging 200 years of Catholic education in Australia.  Similarly, across Australia, Masses were being held at the same time.
In Toowoomba, St Patrick's Cathedral was central to Toowoomba Catholic Schools celebrations. 
Reverend Robert McGuckin, Bishop of Toowoomba, presided over the Mass with the pews filled with representative students and staff of 14 schools from across the Toowoomba region.  Mayor Paul Antonio joined in the celebrations. 
The Mass was live streamed and school communities gathered locally, in towns like Inglewood to join in virtually, whilst others held their own Mass or liturgy in their local churches. 
Celebrating the Mass at St Patrick's Cathedral was especially significant as it is located on the same site as the first Catholic school in the Diocese of Toowoomba. 
St Patrick's School, now St Saviour's Primary School, was opened in 1863.
"With over 9,000 students and 1,700 staff in schools across south-western Queensland, we have much to celebrate. Catholic education in Australia came from humble beginning, led by priests and sisters who were determined to provide education to those that would otherwise not have had access.  Today, we have schools across our rural and remote communities and in Toowoomba that have seen many generations of the same family educated in them and go on to life a full and flourishing life as active contributors to our Nation," said Dr Pat Coughlan, Executive Director: Catholic Schools.
"This 200 year milestone enables us to acknowledge that history and tradition and celebrate the vibrant and futures focused face of Catholic education today," said Dr Coughlan.
The Prime Minister of Australia Scott Morrison had also written a congratulatory message to the Catholic education community on the occasion.
"For over 200 years, your schools, preschools and now universities, have transformed Australia through the millions of lives you have influenced," the Prime Minister wrote.
"On this anniversary, we remember all who have been part of this heritage, including Fr Therry and Australia's first saint, Mary of the Cross. We recall on this anniversary, the good days and the bad, the successes and disappointments; joys and sufferings; as well as the faith and community that has enabled Catholic Education to make this significant contribution to our national life.
"In doing so, we also recognise the clergy, religious, lay men and women, parents and parishes who have contributed so much."
 …ends…
CONTACT:             Donna Kerr | Communications Officer | 07 4637 1408 | 0428 793 718 | donna.kerr@twb.catholic.edu.au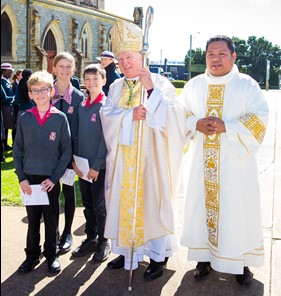 1 – Joshua Jackson,  Ellie Nichols, Jameson Webb from Sacred Heart Primary School, Bishop Robert McGuckin and Deacon Brian Redondo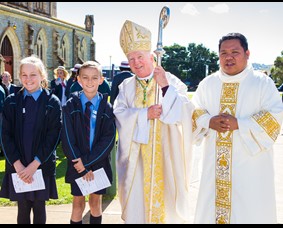 2 – Sophie McKenzie, Xavier Burge from Our Lady of Lourdes Primary School, Bishop Robert McGuckin and Deacon Brian Redondo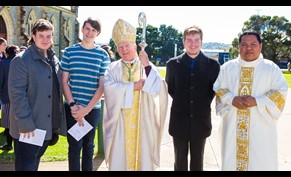 3 – Jai Hardwick-Nichols, Alex Rhode, Aiden Brister from Good Samaritan College with Bishop Robert McGuckin and Deacon Brian Redondo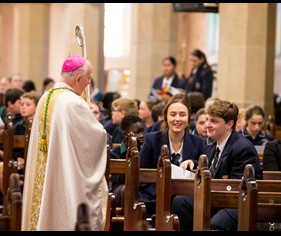 4 – Bishop Robert McGuckin chats with Verity Collins and Kaleb Reynolds from St Joseph's College, Toowoomba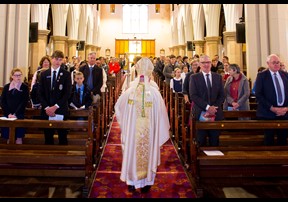 5 – Bishop Robert McGuckin and student and staff representatives of Toowoomba Catholic schools gathered at St Patrick's Cathedral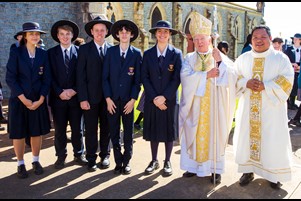 6 – Verity Collins, Kaleb Reynolds, Zachary Vellacott, Blake Troy, Waed Roumieh from St Joseph's College with Bishop Robert McGuckin and Deacon Brian Redondo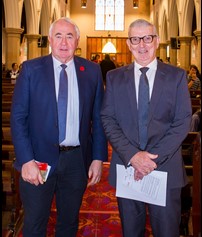 7 – Mayor Paul Antonio and Dr Pat Coughlan, Executive Director: Catholic Schools
8 – Saviour's Sister led the singing