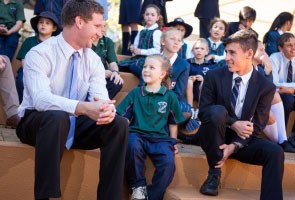 Our Schools
Catholic schools are extremely popular
In fact, Catholic schools enrol about 20 per cent of Australian school students.
Many parents say they have made their school choice for reasons such as:
Catholic schools strive to achieve very high standards of education
They are safe yet challenging places
Catholic schools are faith-based places that are grounded in Christian values
Most of our Catholic schools are connected to the parish where they are located and are an important part of the mission and life of the Church.
In the Diocese of Toowoomba there are 31 schools located within Toowoomba, the Darling Downs and South West Queensland region.
We encourage you to discover our schools and see for yourself why a Catholic school education is a good choice.
All
Primary
Secondary