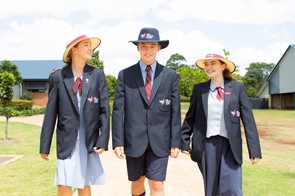 Our schools
Discover what a Catholic education can offer
Catholic school communities are places where families and staff share the incredibly important responsibility of supporting the vast potential of every student. All 31 Catholic system schools, located in Toowoomba, the Darling Downs and South West Queensland region share the challenging mission to be exemplary places of learning and faith where all students experience academic success within a distinctive Catholic environment.
Our schools are led and supported by highly qualified staff who act in partnership with parents and carers to bring out the best in every student…a vital ingredient of success at school.
Our staff fully appreciate the life-changing power of education and have a passion for learning. A vibrant and personalised approach to learning challenges students to think deeply about the world and their place in it.

I thank all families who are sharing in this journey with us and extend an invitation to all to experience the positive difference our schools are making in the lives of  students. A Catholic education is inclusive, affordable and open to all.
Dr Pat Coughlan
Executive Director: Catholic Schools
Diocese of Toowoomba


Many of our schools plan Open Days, Twilight Tours and Come and Try Days throughout the year. All schools offer tours via appointment. The enrolment period is generally April-May; however applications will be accepted at any time of the year. Information about the enrolment process and related events are available on school websites.
Visit your local Catholic school website for details or find a school near you.
Primary Schools
Secondary Schools
Youth and Community Learning Centre
FAQs